MV 100 Holiday Raffle

Why Buy a raffle ticket?

This is your chance to obtain a unique low-numbered MV plate that can be passed down for generations to come while making a vital contribution to our Island community.

Proceeds from plate sales directly benefit Martha's Vineyard Community Services, the Island's social services safety net providing vital education health and human services on the Island.
In keeping with the agency's community-minded spirit, MVCS has committed to donating 20% of annual net proceeds to other Island non-profits through the Martha's Vineyard Community Services Driving the Future Charitable Fund, a collaborative effort between MVCS and the Permanent Endowment for Martha's Vineyard. Grants from this fund are used to support education and health and human services for youth and seniors on Martha's Vineyard.
Where can I buy a ticket?
Tickets are being sold at MV Community Services, Chicken Alley Thrift Shop and throughout the community.
MV Community Services - 111 Edgartown Vineyard Haven Road (Building B) during regular business hours M-F 9am-4pm
Chicken Alley Thrift Store - 78 Lagoon Pond Road during regular business hours M-F 9am-5:30pm and Saturdays 9am-5pm

Christmas in Edgartown

- December 14 10am-2pm
Stop by our table in the mini-park!

Can't make it to a ticket vendor?


Our License Plate Committee will work with you to coordinate ticket purchase and mail your tickets to you. Please fill out the form below and we will get in touch.
Martha's Vineyard License Plate 100 is up for raffle!

Martha's Vineyard Community Services will host a raffle for the chance to win MV License Plate 100. Ticket pricing is one for $25 and five for $100. This raffle is unique in that it gives more community members the chance to win a low-number plate. This is the first low-number license plate to be incorporated into a raffle. Previous low number license plates have been included in a low-number online auction series. To date, there have been four low-number online auctions, with plates selling between $1,500-$10,000. The low number auction series has raised over $227,700 to benefit MV Community Services and other Island nonprofits through the Driving the Future Fund.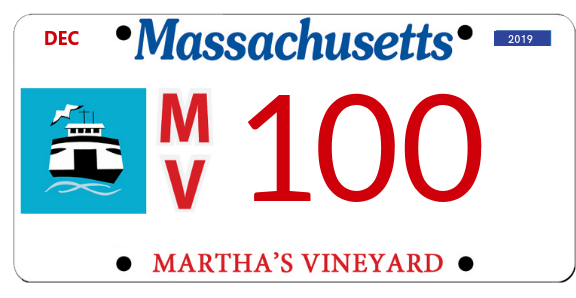 1 for $25, 5 for $100 - winner will be chosen on Monday, December 16